Here at Blue we are lucky enough to partner with some fantastic local organizations. Every so often, these organizations give our employees the opportunity to enjoy their services at either a discounted rate or free of charge. Taking advantage of the fabulous opportunities with these partnerships, I decided to take a trip to the theatre!
Back in May, staff were given the opportunity to enter their names into a draw to win tickets to a Theatre Collingwood production of our choosing over the summer season. Lucky for me, I was one of 20 individuals who had their name selected – Bonus!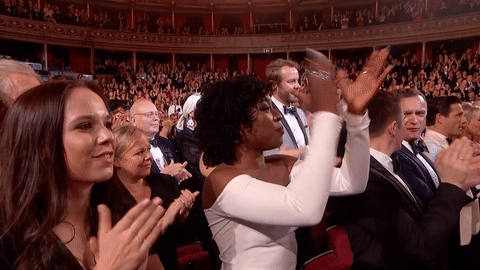 Titles ranged from "Where Are You", "Louise Pitre", "Summer of '69", "Beside Myself" and "Opry Gold". Each month of the summer features a different production with different venues for each. What a great way to make a tour around the area while also experiencing some stellar entertainment!
Summer of '69
Naturally as a Bryan Adams fan, the Summer of '69 show caught my eye immediately. Upon further investigation, I found that the show was playing on Blue Mountain turf (bonus!) and included songs from artists such as The Beach Boys, The Beatles and Simon & Garfunkel. It was a no brainer that this was the show for me.
In addition to the complimentary tickets allocated from the draw, Theatre Collingwood also offered discounted rates to Blue employees to enjoy this show held at the Blue Mountain Inn. Is there any better way to introduce the theatre to patrons besides discounted tickets? I didn't think so either!
There is something so exciting about the theatre. It may be that I used to be a theatre kid myself. It may also just be the anticipation of seeing the set, props and band setting up before it all begins. Regardless of what it is – the feeling does not get old.
Show Time!
8 o'clock on the dot, the cast rolled in and it was time to begin. Covering all things popular in the year of 1969, the audience was taken to a time 50 years back. For some, it was an opportunity to reflect on younger years, and for others like myself, it was a chance to see how another era lived through the music it produced.
Everything from the founding of Wendy's, to the Women's Rights movement, and all the way to Sesame Street, the cast painted a picture of what life was like in 1969.
There were seamless melodies, lots of giggles and active audience participation throughout. It didn't hurt either that we had a gorgeous view of the Mountain to watch the sunset during intermission.
Interested in More Opportunities?
Want to spend an evening at the theatre yourself? There are still more shows over the course of the summer! Check out https://theatrecollingwood.ca/2019-summer-festival-season/ for the list of remaining productions.
Make sure to stay in the loop! We provide frequent communication via email about special partnership offers and promotions. Check in with your Leader or Human Resources for any current offers:
apply@bluemountain.ca
705-445-0231 ext. 51420
HR Office – 190 Gord Canning Drive (Resort Operations Centre)