In the world of skiing and snowboarding, we not only aspire to ski majestic mountain ranges or slash perfect powder. On our list of daydream worthy settings is the ultimate space to store our gear . Lugging your equipment in the house, trying to hang up things, dry boots and gloves without causing a giant mess is no easy feat. I have searched the internet high and low and for the best of the best, and great ideas you can implement in your own homes.
Let me share with you my gear room dream board: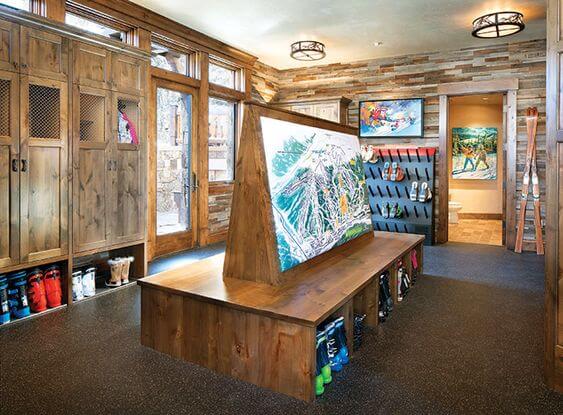 I think we can all agree that this is perfection. Tons of storage for your boots, rubberized flooring so it is not slippery and everyone has their own locker that is half open, so that your gear can breath and dry without smelling up your locker. The extra wide bench, with the trail map makes sure there are no fights for space and the piece de resistance is that extra wide boot dryer on the back wall. Hello – I live here now. 💁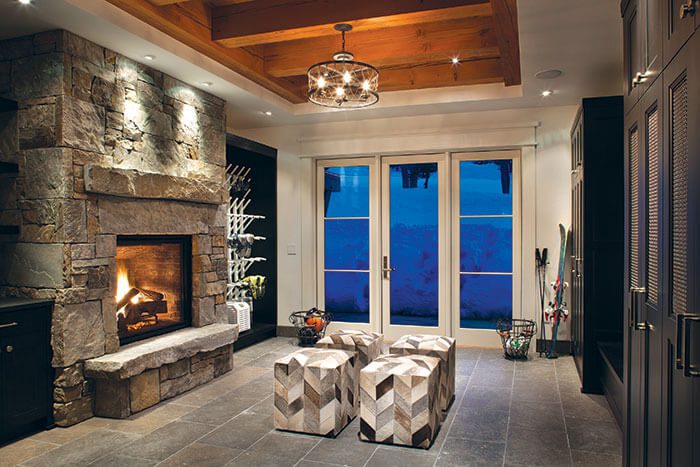 Now this is the classiest gear room I've ever seen. I imagine coming home after a big day on the mountains, and then cracking a bottle of champagne as soon as you walk in. I want to note that the navy built in to the left of the fireplace is likely a wine fridge. Once again they have the amazing boot/glove dryer on the far side and the sexiest navy lockers ever. I don't know whose family lives here – but you can better believe they know a thing or two about living their best life.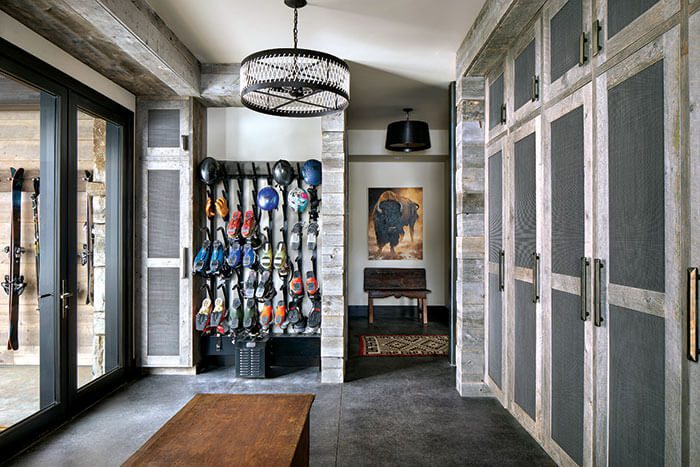 Last but certainly not least in the dream home gear rooms goes to this masterpiece. Leave the skis and boards outside to dry off before coming in through your amazing oversized entry doors. My dream dryer is a common theme here – and then once again keeping the clutter hidden in personal lockers. The flow of this room means leave the mountain in the front room before heading in to après.
Now what are gear rooms that are likely attainable for us?!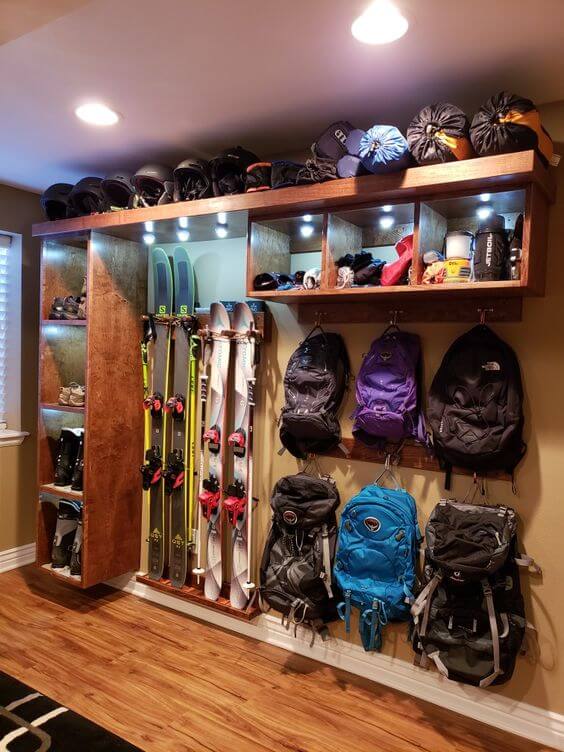 This right here is a thing of beauty. A few simple cubby style shelves, and some creative uses of dowels and hooks bring Marie Kondo style organization to all of your outdoor gear.
If you're tight on space, slat wall can be your best friend. You can pick up a small 6×6 square at your local hardware store and get shelving attachments to ensure your gear is off the ground and stored for grab and go access.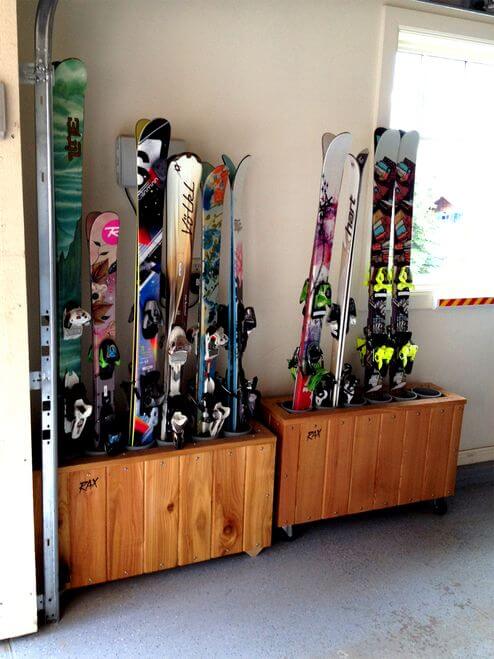 If you have multiple skiers in your family, the roller bins are a great option. They can squeeze in beside your garage door (which is normally unusable space) and keep the skis upright and tidy. We use this at our ski valet, and they are handy dandy.
If you're tight on space, this family has adapted what looks like an Ikea Pax Closet (or another flat pack wardrobe) into the side of their mud room. You have a space for everything, your jacket and pants to dry, helmets, boots and a side of cubbies for those accessories and a nice little bench to take off your gear.
Unsure on what to so with those basements? Well this display wall that holds your skis and snowboards horizontally puts them on display in a nice accent wall, because chances are that if you're a skier or snowboarder, you're happy to showcase your passion.
Last but not least – if you have the space, lockers are amazing. They hold all your gear and keep it all neatly tucked away. Yes shelves and cubbies are most cost effective, but if you can put a door on them it takes the "ugh" out of looking at how your little boarders or skiers have put away their stuff in a not so orderly fashion.